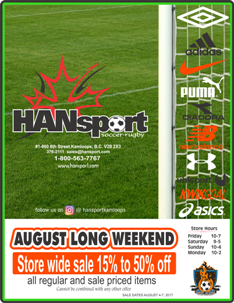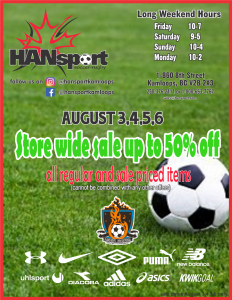 SAVE
The Kamloops Invitational Soccer Tournament (KIST) Society thanks all the 2016 teams and players for another great tournament. You're what makes KIST so successful year after year.

A very special thanks to our major sponsors HANSPORT, MOLSON and UMBRO Canada – their HUGE support makes it all happen.
Thanks as well to the City of Kamloops, Kamloops Youth Soccer Association, McArthur Island Golf, Fresh Is Best, CJ's Night Club and our Host Hotels – Hotel540 and The Thompson.
Lastly, a huge call out to our organizers and our volunteer staff…they put in countless hours of their personal time to make this happen every year and we couldn't pull it off without their incredible support.
2016 TOURNAMENT RESULTS
MEN

WOMEN

OPEN

OPEN

1st
UCC Alumni (MVP Casey Cullum)
1st
NSGSC (MVP Lexy Hines)
2nd
Drake & Macefield
2nd
Wolves FC
3rd
Les Amis Fc
3rd
ASC United
4th
Lynn Valley Pirates
4th
Denver & Daughters

REC A

REC A

1st
Sparta FC (MVP Billal Hakim)
1st
JB Angels (MVP Ellen Hall)
2nd
The Other Guys
2nd
99 Problems and the Pitch is Not One of Them
3rd
The Goats
3rd
Tikitaka
4th
America FC
4th
Spice
B Final Winners: Pass FC

REC B

REC B

1st
Lightning FC (MVP Dustin Annett)
1st
PG Misfits (MVP Shaunda Courous)
2nd
Men of Noble Girth
2nd
Stolo
3rd
Flying Arrows
3rd
SW Fever
4th
Pronto-Cariboo
4th
Hearthstone Brewery
B Final Winners: Fat Boyz
B Final Winners: River City Rebels

REC C

1st
Riversyde Auto (MVP Andy Heer)
2nd
Residence Conference Centre FC
3rd
Kamloops Combo
4th
Saints
B Final Winners: Narwhals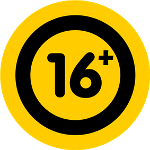 Players must be 16 years of age or older to be eligible to play. KIST reserves the right to ask for proof of age.
Order your KIST 2015 commemorative T-shirt or Tank Top now. White or light grey. Quantities are limited!
Order Now